Metal Monkey Welding & Fabrication
Capturing the unique personality of a brand that was looking to spark things up.
How We Helped
Branding
Logo Design
Photography
Web Design
Logo Design
Our first challenge was to incorporate a monkey into a logo for a welding and fabrication service. We asked the client detailed questions, ranging from the preferred color scheme to the ideal customer. We then helped them select a configuration and worked through many iterations to give the monkey just the right expression.
Branding
In positioning Metal Monkey, our goal was to blend the client's affable personality with their industrial services. Too stern, and the brand could feel surly or intimidating. Too playful, and it risked appearing unprofessional.
We worked carefully to strike the right balance, creating a professional persona that stands out from the troop.
Photography
Bold imagery captures the grit and quality of workmanship that Metal Monkey brings to their projects.
Web Design
From forceful fonts to industrial textures, many special design elements help build the company's brand.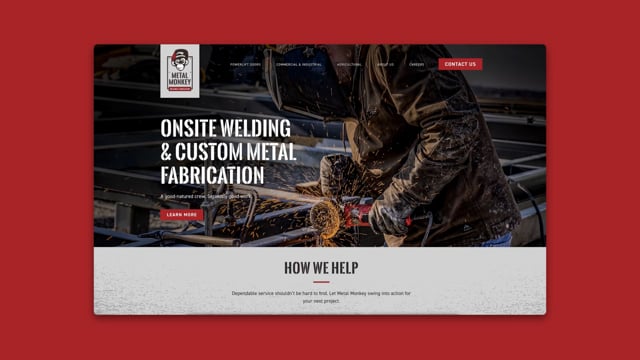 Results
The local listings are full of plain and simple fabrication shops. But Metal Monkey is now easily recognized as a company that is easy to work with and gets the job done.
Let's make it happen.
No pressure, no pushy sales. Just a conversation about where you are today and where you would like to go.